I have always wanted to create my own font, and have always planned on learning the software to develop various explorations in typeface design, but also for the vain purpose of having a typeface of my own handwriting.
In keeping up with the practices and various coding languages used in web design, I have had little time available to hone such a skill set. Fortunately for me, YourFonts.com provides exactly what I was interested in without needing to investing all the time, the opportunity to create a unique typeface both quickly and cheaply.
As soon as I stumbled across the site, I eagerly printed out the template.  For my first attempt I chose to stick with my own handwriting and quickly scratched out the alphabet and headed to the scanner.  I had a little trouble uploading a PNG, so I would suggest saving your file as a JPG. After a few minutes I had created "Sam's Scrawl" and began playing around in Illustrator.  As I tested out my new font, I discovered that I was a bit to hasty with writing out the characters.  I then tweaked my initial scans in Photoshop and began the uploading process anew.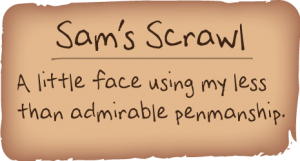 I am pleased with the final result, however, the typeface would not be suitable for large size uses as it it is comprised of sharp vector shapes rather than organic curves.
Download Sam's Scrawl for your own personal use.